Bloomsbury Summer School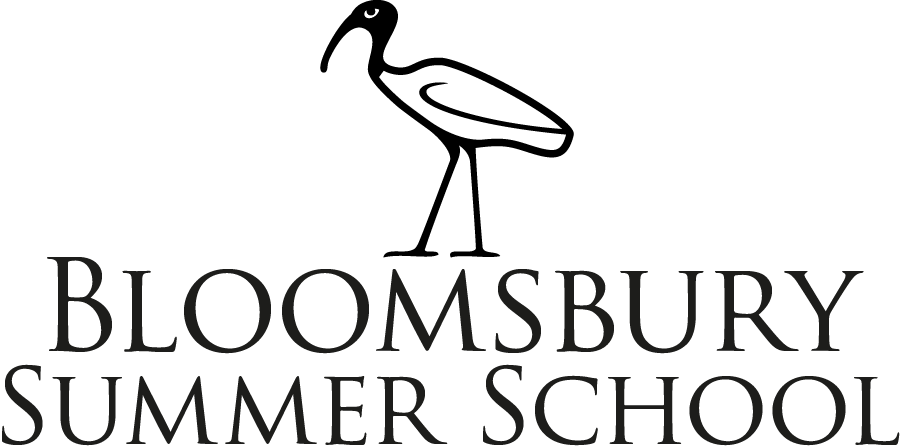 Fascinated by ancient civilisations?
We offer anyone with any level of knowledge, inspiring short courses on ancient Egypt and other areas of the ancient world.
BSS in Egypt 2016
22nd November 2016
Nubia: a journey through a drowned land
Course Director: Dr Robert Morkot
4 – 12 November 2016
A NEW course taught in Aswan and on a Lake Nasser cruise by one of THE experts on Nubia, with daily lectures and exploration of relevant ancient sites.
A series of ten lectures on the complex relationship between Egypt and Nubia in ancient times, and on the writings by travellers to Nubia up until the 20th Century. Teaching by Dr Robert Morkot, a respected Egyptologist, Senior Lecturer at the University of Exeter, expert on Nubia, and author of The Black Pharaohs, Egypt's Nubian Rulers and Nubia: a journey through a drowned land (forthcoming).
A carefully-considered programme of site visits to complement the varied lecture programme, including the temples and other ancient monuments relocated to save them from Lake Nasser.
Busy, exciting days with time to relax at our wonderfully-located hotel in Aswan, and on our luxury cruise boat on Lake Nasser.
Plenty of time to socialise with Robert Morkot and fellow participants, for example over meals (all but one of which are included group meals).
Course Coordination by BSS Co-Director Lucia Gahlin, who will accompany the group throughout. Tour Coordination in Egypt by Galal Alsenusy who has arranged all our BSS in Egypt courses to date.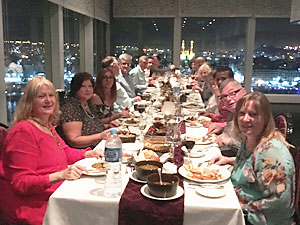 Our BSS in Egypt 2016 Welcome Dinner in the Panorama Bar at the Movenpick Hotel in Aswan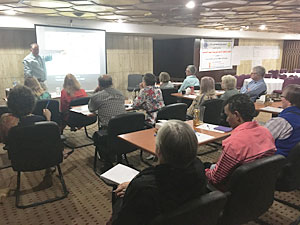 One of ten lectures given by Dr Robert Morkot on Nubia: journey through a drowned land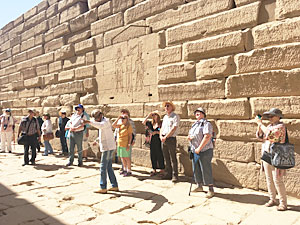 Our guide Ahmed El Saghir explaining the relief on the back wall of Kalabsha Temple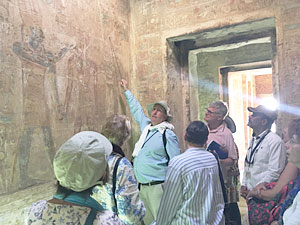 Dr Robert Morkot sharing his insights with us at the Temple of Amada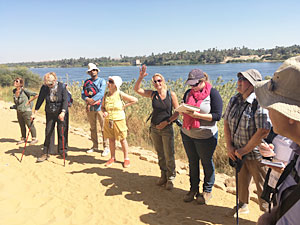 Director of the Gebel el-Silsila Dr Maria Nilsson telling us about the rock art, quarrying marks, shrines and stelae at Gebel el-Silsila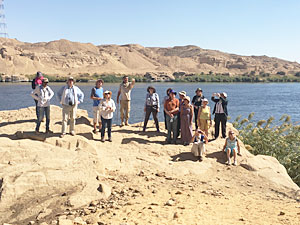 Assistant Director of the Gebel el Silsila Project, John Ward, explaining the rarely visited Nile Stelae at Gebel el-Silsila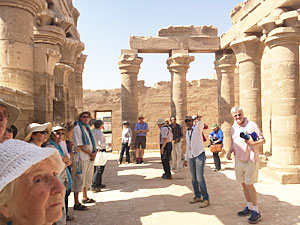 We had a daily group lunch. This time at Anakato in East Sehel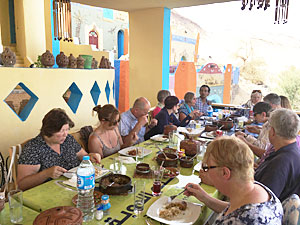 We had a daily group lunch. This time at Anakato in East Sehel
Exploring Sehel Island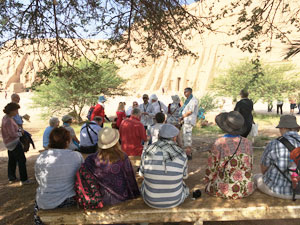 Ahmed El Saghir giving us a talk at Abu Simbel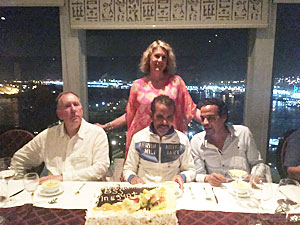 Lucia Gahlin and the BSS in Egypt 2016 team including Robert Morkot and Ahmed El Saghir.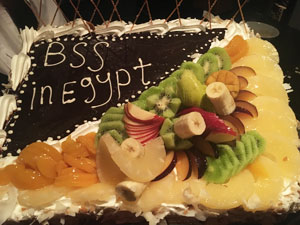 Cake baked for our Farewell Dinner by the chefs at the Movenpick Hotel, Aswan
Course description
Combining lectures and site visits in Aswan and on the shores of Lake Nasser, we bring you a vivid exploration of the complex relationship between Egypt and Nubia throughout ancient times, but particularly during the New Kingdom and Ptolemaic-Roman periods. We will find that the Nubian temples reveal much about the development of Egyptian theology during the New Kingdom, as well as the changing political situation and Egyptian imperialism. This course will consider the importance of Nubia to Egypt, and the influence of Egypt on Nubia. This will be the first time BSS has included a cruise on Lake Nasser in a 'BSS in Egypt' course. We will consider what Nubia – both ancient and pre-High Dam – looked like. Fortunately we have many travel narratives, extending from the straightforward observations of John Lewis Burckhardt to the purple prose of Amelia Edwards. These narratives are supplemented by the numerous graffiti left by travellers – again spanning ancient and modern worlds: we can see the Greek inscriptions on the colossi of Abu Simbel from the time of Psamtik II's campaign (593 BC), and the graffiti of 19th century scholars and tourists, and the military expeditions to the 'Soodan'. This course will draw together a wide range of sources to create a picture of Nubia, ancient and more modern.
Course programme
Day 1
Fly from Heathrow to Aswan via Cairo. Check in to 5* Movenpick Hotel for 3 nights
Day 2
Visit the Nubian Museum; the Old and Middle Kingdom tombs of the nobles at Qubbet el-Hawa
Group Lunch
Lecture 1: Introduction: A Drowned Land
Welcome Dinner
Day 3
Visit the multi-period, ancient temple and town remains on Elephantine Island; the inscriptions (including the 'Famine Stela') on Sehel Island
Group Lunch
Lecture 2: On the Edge of Empire - Isis and her Cult
Lecture 3: Egypt in Nubia
Day 4
Visit the 'Unfinished Obelisk' in the ancient granite quarry; the Ptolemaic-Roman Philae temple
Packed Lunch
Check in to the 5* M/S Prince Abbas (Movenpick's Lake Nasser cruise boat) for 4 nights (full board)
Lecture 4: Travellers in a Drowned Land
Day 5
Visit the temples relocated on New Kalabsha Island, including Kalabsha, Beit el-Wali, remains of Gerf Hussein & the Kertassi Kiosque
Lecture 5: Ruling Nubia
Lecture 6: Meroe in Nubia
Day 6
Visit the temples of Wadi el-Sebua; Dakka; Maharraqa; Amada; Derr; the tomb of Penou
Lecture 7: Ballana and Qustul
Lecture 8: Egyptian Towns and Temples in Nubia
Day 7
Visit the temples of Ramesses II at Abu Simbel
Lecture 9: The King as God in Nubia

Day 8
Drive from Abu Simbel to Aswan
Packed lunch
Check in to 5* Movenpick Hotel for 1 night
Free afternoon (optional bird-watching excursion, or return visit to Nubian Museum recommended)
Lecture 10: Graffiti, Graffiti
Farewell Dinner
Day 9
Fly from Aswan via Cairo to Heathrow.