Bloomsbury Summer School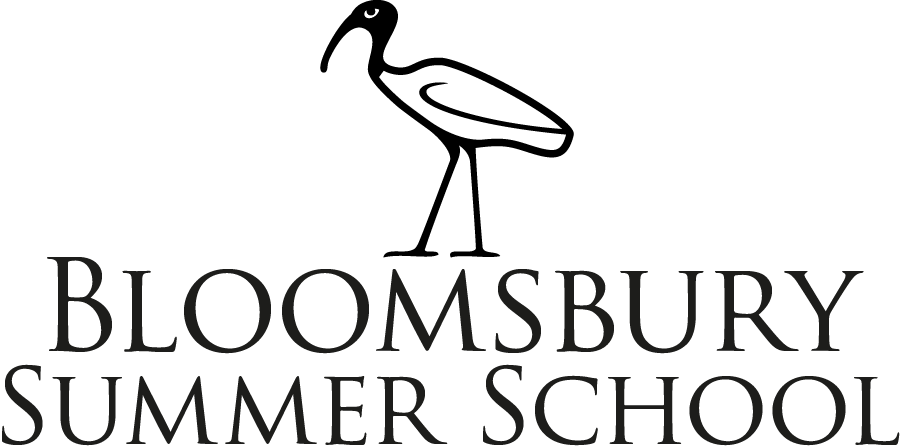 Fascinated by ancient civilisations?
We offer anyone with any level of knowledge, inspiring short courses on ancient Egypt and other areas of the ancient world.
Summer School 2020 – programme in detail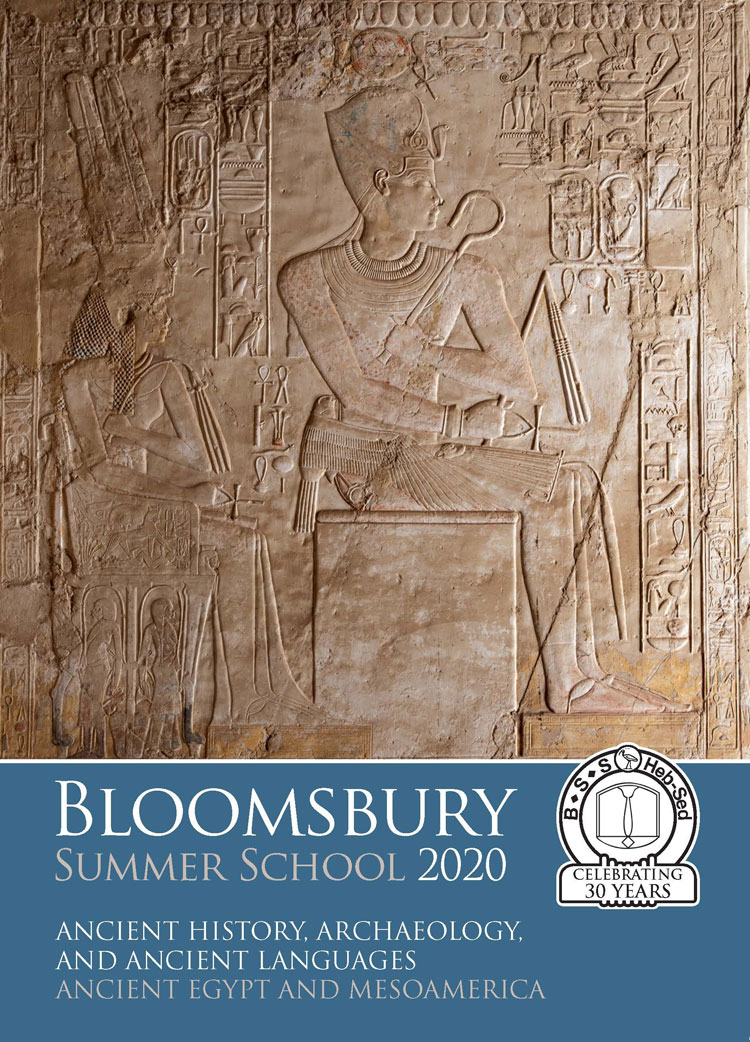 Monday 13 April to Friday 17 April
Coptic for Beginners
Course Director: Dr Bill Manley (University of Glasgow)
Running for the first time in a springtime slot – we are delighted that Dr Bill Manley is reprising his unique introduction to Coptic for us this year. Coptic was the language of the early Christians of Egypt and the final phase of the ancient language of the pharaohs. Our beginners course offers you the knowledge and the practice required to begin reading important groups of ancient texts, highlighting the wisdom of the 4th-century desert fathers and the lives of monks and wealthy villagers at Thebes in the aftermath of the Arab invasion.
Please note: This is an introduction to the Coptic language and Coptic texts, and does not presuppose knowledge of Coptic or any other language. You will be invited to study various points of grammar and apply them from day one, to reading ancient texts, using notes specially written for BSS. Do not worry about the intensity of this course: there will be plenty of time for supervised practice and for questions and answers with your tutor.
If you take this course, you will be equipped to take our Reading Coptic course in the summer (29 June – 3 July).
Monday 29 June to Friday 3 July
Reading Coptic
Course Director: Dr Bill Manley (University of Glasgow)

Once again Bill Manley will be here with a course for old friends and newcomers, designed to build on your elementary skills in reading Coptic. This brand new course concentrates on exemplary groups of Coptic texts from the 4th century to the decades following the Arab invasion, including letters, narratives, biographies, legal papers, sermons and spells. You will be invited to study different points of grammar and apply them from day one in reading ancient texts, using notes specially written for BSS.
Note: You need not have taken the course Coptic: A Course for Beginners at BSS, but Reading Coptic assumes you do have some experience in reading Sahidic Coptic texts (as a rule of thumb you should be able to read a short narrative including the Past Tense and Circumstantial forms.) However, do not worry about the intensity: there will be plenty of time for supervised practice and for questions and answers with your tutor. On the other hand, if you have taken Reading Coptic with us previously, you will find all-new content in this latest course.
.
Monday 29 June to Friday 3 July
Bread and Beans! The botany of ancient Egypt
Course Director: Dr Claire Malleson (American University of Beirut)
What did ancient Egyptians do all day? Most probably, for most people, the answer is – farming! The construction of the spectacular temples and tombs that we see today was only possible due to the rich agricultural resources of the Nile floodplain. From the everyday staples of bread and beer (some things never change!), to linen clothing, and furniture for royal tombs, plants were a key part of life for everyone in ancient Egypt. We will discuss the annual agricultural cycle and the role of cereals in the national economy, small-scale vegetable gardening, the use of "waste" products, and the technologies involved in making wine, bread, beer, boats, and clothing, as well as ancient Egyptian diet and nutrition. Trips to museum collections will bring many of the plants and their products to "life".
Monday 6 July to Friday 10 July
Reading Hieroglyphs: Khufu and the magicians
Course Directors: Dr José Ramón Pérez-Accino (University of Madrid) and Dr Bill Manley (University of Glasgow)
As usual, we have set aside a course for those of you who love to discover pharaonic Egypt by reading the ancient texts. This year we are delighted to offer a brand-new course based on the Tales of Khufu and the Magicians, recorded on Papyrus Westcar (Berlin 3033) and featuring the royal family of the 4th Dynasty. We will also read some New Kingdom funerary inscriptions which illuminate the Tales' engaging beliefs about this world and the meaning of death.
Note, in response to ever-increasing demand and your recent feedback, Khufu and the Magicians will be run in two groups to allow for smaller class-sizes and increased enrollment—though the content will be the same for each group.
Our Reading Hieroglyphs courses presume you already have good experience of reading Middle Egyptian hieroglyphic texts. Normally, we would expect you to have taken both of the BSS courses Hieroglyphs for Beginners (first stage) and Hieroglyphs: The next step (second stage) beforehand, though this is not mandatory. As a guide, before you come along you should have worked through How to Read Egyptian Hieroglyphs (see below) to the end and be comfortable reading any of the texts in it. At the same time, do not worry about the intensity of this course: during the week, there will be plenty of time for your own supervised work and for contact with your tutors.
Monday 6 July to Friday 10 July
Art and Archaeology of Mesoamerica in 100 Objects
Course Director: Dr Elizabeth Baquedano (University College London)
We are pleased to welcome back Dr Baquedano, this time to explore the cultures of the Olmecs, Mayas, Toltecs, and Aztecs through key objects from the period of c.2000 BCE to the arrival of the Spanish in 1519 CE. Jewellery, masks, coffins, and figurines fashioned from jade, gold, and other precious materials provide unique insights into daily life, religious belief, creation myths, and concepts of death and the afterlife. You will become familiar with elaborate vessel types from Teotihuacan and the symbolic meanings their iconography reveals. Dr Baquedano will also introduce you to the extensive collection of ancient Mexican turquoise mosaics held in the British Museum, as well as trace the curious case of an obsidian mirror once used for divination and prognostication, that made its way to England during the reign of Queen Elizabeth I. Also from the rich collections of the British Museum – where two lectures will take place – you will have the unique opportunity to examine first-hand codices made of bark paper and deerskin, dealing with administrative, religious and historical matters.
Monday 13 July to Friday 17 July
Hieroglyphs for Beginners
Course Director: Dr Bill Manley (University of Glasgow)
We are excited to be able to offer our popular beginners hieroglyphs course again this year. Our course director has vast experience of teaching this subject and is regarded by many as one of the best hieroglyph teachers around. This course offers an introduction to the world of Egyptian hieroglyphs and requires no prior experience. Through a series of lectures and practical sessions, you will progress from grasping the basics of writing and language notions of the ancient Egyptians, to being able to read some of the monuments on display at the British Museum.
This course is designed for complete beginners, but it might also appeal to hieroglyphs students wishing to refresh their knowledge. This will be an intense and rewarding week, culminating in a visit to the British Museum to read some of the inscriptions.
Monday 13 July to Friday 17 July
Hieratic: An introductory class to ancient Egypt's cursive script
Course Director: Dr Luigi Prada (University of Oxford)
As surprising as it may seem to us, the scribes of ancient Egypt first learned to write and read their language not in the hieroglyphic script, but in its cursive kindred: hieratic. Knowledge of hieroglyphs would come only at a more advanced stage. However, for the modern student the opposite is true; all of us typically start learning ancient Egyptian through the hieroglyphic script. This course thus provides you with the unique opportunity to read ancient Egypt's literary masterworks and daily-life documents in their original hieratic version, written on papyri, ostraca, and other materials. Following an introduction to hieratic and its essential elements, a selection of texts will be read in class, offering you an overview of the diachronic evolution of the hieratic script from early Pharaonic to Graeco-Roman times. This class includes sessions taught with original artefacts at the British Museum and UCL's Petrie Museum of Egyptian Archaeology.
Participants will be expected to have knowledge – at least one year's study – of hieroglyphic Middle Egyptian. Should you be uncertain as to your knowledge level, please feel free to contact the Course Director to discuss your case (luigi.prada[at]orinst.ox.ac.uk).
Monday 20 July to Friday 24 July
The Royal Tombs of Ancient Egypt
Course Director: Prof. Aidan Dodson (University of Bristol)
We are thrilled to welcome back Professor Dodson with an exciting course of the royal tombs of ancient Egypt. These include some of the most stupendous monuments of all time, containing some of the greatest treasures to survive from the ancient world. During this week, you will explore the history and archaeology of the funerary complexes of Egypt's kings, queens, and the wider royal family, from the very dawn of history down to and beyond the country's absorption into the Roman Empire, three millennia later. We will also make some short detours into the royal tombs of other nations, to compare and contrast the ways in which human beings have dealt with the posthumous destinies of their rulers.
Monday 20 July to Friday 24 July
Fifth Dynasty Solar Religion and the Sun Kings
Course Director: Dr Massimiliano Nuzzolo (Charles University, Prague)
Bringing the latest research from the field, Dr Massimiliano Nuzzolo will explore with you one of the most fundamental symbols of ancient Egyptian belief and practice – the sun. Early symbolic expression is associated with pyramid building, such as the great pyramid of Khufu at Giza. There is a specific period, however, when we see the development of a coherent vision of the sun cult, with a fully-formed system of belief in the afterlife and the introduction of new deities. The celebration of solar-related festivals becomes more common, along with the construction of unparalleled monuments for the joint cult of the Egyptian king and the sun god, especially sun temples. In this course, we will delve into this pivotal period religious innovation and coherence – namely, the Fifth Dynasty (c.2494 BCE–c.2345 BCE). We will examine textual, artistic, and architectural evidence, including material kept in both the Petrie Museum of Egyptian Archaeology and the British Museum. Dr Nuzzolo will present the latest findings from the archaeological fieldwork he has been conducting over the past 10 years at the sun temple of Niuserra at Abu Ghurab, the most intact surviving sun temple.
Monday 27 July to Friday 31 July
Love Spells, Oracles, Amulets: Ancient Egyptian rituals of magic and divination
Course Director: Dr Franziska Naether (University of Leipzig)
We are thrilled to introduce Dr Naether, a newcomer to the BSS programme. In this course, she will take you on a deep dive into ancient Egyptian magic – and back again! You will explore what magic meant for the ancient Egyptians compared with our views today. Lectures will examine sources dating from c.1500 BCE to 600 CE and involving all kinds of magical spells, medical magic, amulets for protection (including a practical session), and magic for communicating with the gods (including reading from oracle books). Finally, Dr Naether will explore with you the influence of ancient cult practices on early modern and current spiritual life, including the work of Aleister Crowley, and Napoléon Bonaparte and his "secret" book of fate.
Monday 27 July to Friday 31 July
An A–Z of Ancient Egyptian Statues
Course Director: Dr Campbell Price (University of Manchester)
In response to all the positive feedback following Dr Campbell Price's well-attended course Ancient Egypt in 100 People for us last year, we are staging this new course by popular demand. Campbell will now take us into the rich and fascinating world of ancient Egyptian statuary – one of the most ubiquitous products of ancient Egyptian material culture. Lectures will examine the materials, quarrying techniques, transport, installation, activation, use, reuse, and later reception of this type of Egyptian sculpture. The course will also interrogate forms and contexts for sculpture over time, provide translation and analysis of the rich body of statue inscriptions (some previously untranslated into English), and offer a practical guide to recognising the dating and meanings of a range of statue types.
This course included sessions taught in The British Museum and UCL's Petrie Museum of Egyptian Archaeology.