Bloomsbury Summer School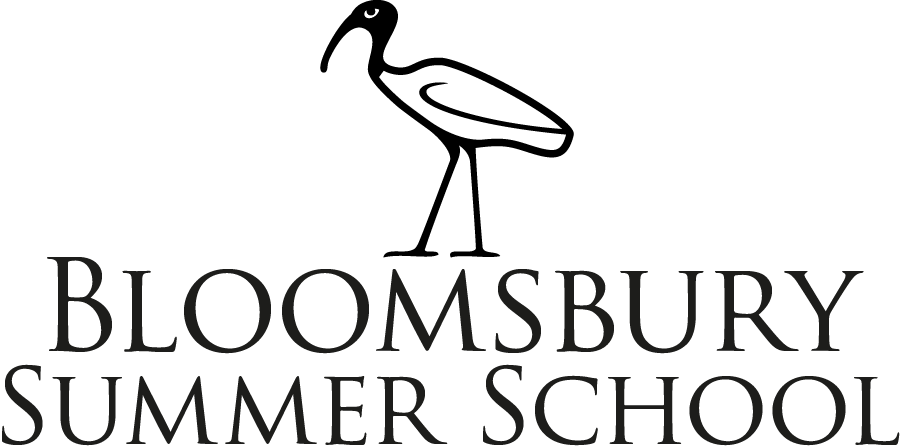 Fascinated by ancient civilisations?
We offer anyone with any level of knowledge, inspiring short courses on Ancient Egypt and other areas of the Ancient World.
Summer School 2018 – programme in detail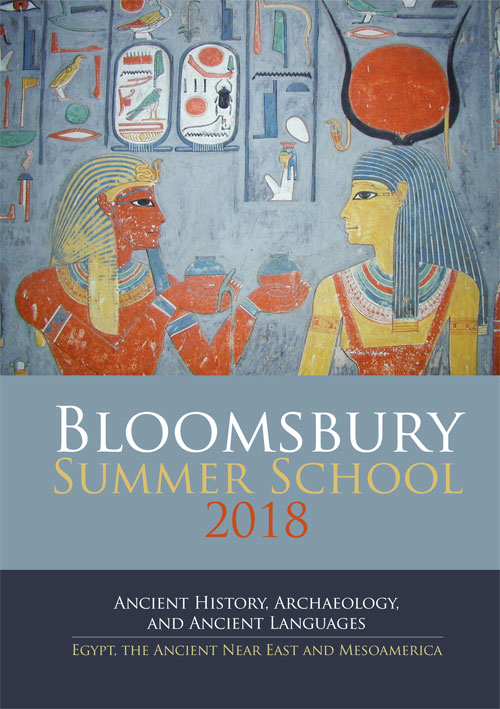 Monday 2 – Friday 6 July
Reading Coptic: the early texts
Course Director: Dr Bill Manley
In response to popular demand for more Coptic courses, Bill Manley returned to BSS to direct a brand new summer school for experienced readers of Coptic. This time concentrated on the great Coptic father Shenoute, as well as one of the intriguing 'gospels' discovered in the famous Nag Hammadi library. Studied together these texts improved your skills and experience as a reader of the Ancient Egyptian language, while exploring some of the most distinctive words and ideas from the foundational century of the Coptic Church.
Please note: our course on The Early Texts presumes you already have good experience of reading Sahidic Coptic. Normally we would expect you to have already taken both these BSS courses: Coptic for Beginners and Coptic: The Next Step, though this is not mandatory. As a general guide, you should already be comfortable with the various verb prefixes, negation and the idiomatic use of prepositions. However, do not worry about the intensity of the course, during the week we will be working from our own notes, and there will be plenty of time for your own supervised work and contact with your tutor.
Monday 2 – Friday 6 July
Kings, Courtiers, Creatures and Commoners: three millennia of funerary practice at Saqqara
Course Directors: Dr Lidija McKnight and Dr Iwona Kozieradzka-Ogunmakin
The endlessly fascinating site of Saqqara provides evidence for 3,000 years of continuous funerary activity, with human burials of all social groups including royalty, the nobility and ordinary people. It has at its heart the world's oldest stone funerary complex – Djoser's Step Pyramid. This extremely significant archaeological site provides the unparalleled opportunity to chart human burial practices from the 1st Dynasty through to the advent of Christianity in Egypt. It is also home to the Serapeum, the burial catacomb of the cult Apis bulls, as well as the largest of Egypt's known animal necropoleis, where millions of animals were deposited as votive offerings. This course covered the history of human activity at Saqqara throughout Dynastic Egypt, incorporating archival, geophysical, archaeological, documentary and artefactual evidence, investigated using a variety of modern techniques.
Lidija McKnight's research has focussed on animal mummies from the Sacred Animal Necropolis at North Saqqara. Iwona Kozieradzka-Ogunmakin is a bioarchaeologist, specialising in human remains. Her main research has been focused on the ancient population of Saqqara. Together the two course directors brought their research and expertise on the archaeology of Saqqara to BSS. This course included guest speakers (Dr Campbell Price, Dr Paolo Del Vesco, Mr Scott Williams and Dr Paul Nicholson), and special-access sessions taught in The British Museum and UCL's Petrie Museum of Egyptian Archaeology.
Monday 9 – Friday 13 July
Hieroglyphs for Beginners
Course Directors: Dr Bill Manley and Dr José R. Pérez-Accino
We were excited to be able to offer our popular beginners hieroglyphs course again this year. Our course directors have vast experience of teaching this subject, and are regarded by many as the best hieroglyph teachers around. This course offers an introduction to the world of Egyptian hieroglyphs and requires no prior experience. Through a series of lectures and practical sessions, you progress from grasping the basics of writing and language notions of the ancient Egyptians, to being able to read some of the monuments on display at the British Museum.
This course is designed for complete beginners but it might also appeal to hieroglyphs students wishing to refresh their knowledge. This is an intense and rewarding week, culminating in a visit to the British Museum to read some of the inscriptions housed there.
Monday 9 – Friday 13 July
Reading Hieroglyphs: Amenhotep III and his court
Course Directors: Dr Bill Manley and Dr José R. Pérez-Accino
As usual we offered a brand new BSS course for those of you who love to discover the Ancient Egyptians in their own words – through reading the ancient texts. This time we focused on well known – but not often read – monuments from the reign of the 18th Dynasty pharaoh Amenhotep III. We read the king's own accounts of his prodigious building achievements and his wars. We also delved into monuments for members of his court on display in The British Museum, and visited them during the week. In this way, you discovered the distinctive words and ideas of this most magnificent period of Egyptian history.
Monday 16 July – Friday 20 July
The Animal World of the Ancient Near East: from mice to men to monsters
Course Director: Professor Lloyd Llewellyn-Jones
Humans were not the only creatures who inhabited antiquity: the world of the ancient Near East was shared with animals, wild and domesticated, birds, fish and insects. The ancients exploited animals, hunted them, feared them, worshipped them, held them in affection, wrote and sang about them, investigated them and sacrificed them. This fascinating and stimulating course showed the richness of human-animal interaction in antiquity, adopting a cross-cultural perspective which brings together ancient sources from the most significant Near Eastern cultures: Mesopotamia, the Levant, Egypt, and Persia. Not only were different animal species indigenous to different places – the crocodile and ibis in Egypt, the cheetah and ibex in Iran, and the camel and pheasant in Mesopotamia – but the cultural value attached to particular animals also differed. This course highlighted the significance of animals in ancient cultures, and the consuming interest in the animal world displayed by ancient writers and artists.
Lloyd Llewellyn-Jones is co-author of the 2017 book The Culture of Animals in Antiquity. This course included sessions taught in The British Museum and UCL's Petrie Museum of Egyptian Archaeology, including special access to objects.
Monday 16 July – Friday 20 July
Ancient Egypt Reinvented: exploring the manifold identities of Graeco-Roman Egypt
Course Director: Dr Luigi Prada
When we think of ancient Egypt, images of splendour from its pharaonic heyday automatically spring to mind. The later phases of Egypt's history, especially the Graeco-Roman Period, still suffer instead from an unjust neglect. Yet it is through this period's historical heritage that many come to love Egypt's ancient civilisation: think of the best-preserved temples, such as Edfu or Philae, or of half-legendary historical figures, such as Alexander the Great or Cleopatra.
With this exciting new course, we welcomed a new course director to BSS, Luigi Prada, who lectured on our 2017 'Magic in Ancient Egypt' course, and was enthusiastically reviewed. His course offered a full introduction to this fascinating period and exploration of the manifold identities of Graeco-Roman Egypt. You discovered its complex reality, where century-old Egyptian traditions and ways of life were reinvented through contact with the civilisations of the Greeks and Romans. Some of the sessions also offered easy access to the often poorly-known texts and scripts of the time, opening the doors to the intriguing intellectual and spiritual world of the last ancient Egyptians.
This course included sessions taught in The British Museum and UCL's Petrie Museum of Egyptian Archaeology, including special access to objects.
Monday 23 July – Friday 27 July
Mesoamerica's Greatest Civilisations: history and archaeology
Course Director: Dr Elizabeth Baquedano
We were excited to bring you, for the first time, a full and risch course on the archaeology of Mesoamerica, taught by Elizabeth Baquedano, an expert in the field, who is currently researching Aztec Gold. This course introduced you to the long and rich history of Pre-Columbian Mesoamerica, bringing in current research and recent archaeological discoveries. The Aztec, Toltec, Maya, Teotihuacan, Tarascans, and other Pre-Columbian civilisations shared a cultural pattern unlike any other in the world. Archaeologists have traced these civilisations of Mexico and Central America back to the Olmec, who lived in south-eastern Mexico in the first and second millennia B.C. Teotihuacan, also known as 'the City of the Gods', was the sixth largest metropolis in the world in A.D. 600. It fostered unprecedented economic activity and intellectual ferment. The Maya also built gigantic ancient cities. In the first millennium AD, the Classic Maya created courtly societies leaving behind extraordinary artistic and intellectual achievements. Stories of Maya courtly élites and royalty are known from different Maya kingdoms. The Toltecs developed military and mercantile prowess and the Aztecs and Tarascans were great empire builders.
This course included sessions taught in The British Museum, where Elizabeth Baquedano gives regular gallery talks and lectures.
Monday 23 July – Friday 27 July
Ancient Egypt in 100 Objects
Course Director: Dr Campbell Price
Campbell Price, Curator of Egypt and Sudan at the Manchester Museum, returned to BSS by popular demand, this time with a new course to tie in with his new book Pocket Museum: Ancient Egypt (out in 2018). This course introduced the material culture of ancient Egypt through 100 key objects in museums around the world. Organised chronologically, lectures addressed the development of key iconographic motifs and trends in surviving material from tombs, temples and settlement sites. Discussion were grouped around the themes of household and adornment; the state and the Pharaoh; religion and ritual; death and the afterlife. This course engaged with artefactual evidence encountered in museums, with a critical assessment of how 'Ancient Egypt' is reconstructed based on a series of disparate traces.
This course included sessions taught in The British Museum and UCL's Petrie Museum of Egyptian Archaeology, including special access to objects.